Whether you're new to the area or just looking for your next food adventure, we ate our weight across the Raleigh-Durham area and these are the five restaurants we're loving right now.
Brewery Bhavana
RECOMMENDATION: Scallion Pancakes
Located in the heart of downtown Raleigh, right across from the historic Moore Square Park, Brewery Bhavana is a unique 4-in-1 concept--craft beer, dim sum, a flower shop and a bookstore all wrapped up into one. You don't have to take our word for it; they've been recognized in several publications, including being honored as one of Forbes' The Coolest Places to Eat in 2018.
Poole's Diner
RECOMMENDATION: Macaroni Au Gratin
Look for the lime green building with the red awning and you'll know that you've arrived at James Beard Award Winner Ashley Christensen's Poole's Diner. Like the name depicts, you can expect to find comforting diner food. What you won't find is anything average. Their menu of seasonally, locally-focused offerings changes weekly, and sometimes even daily, depending on the harvest.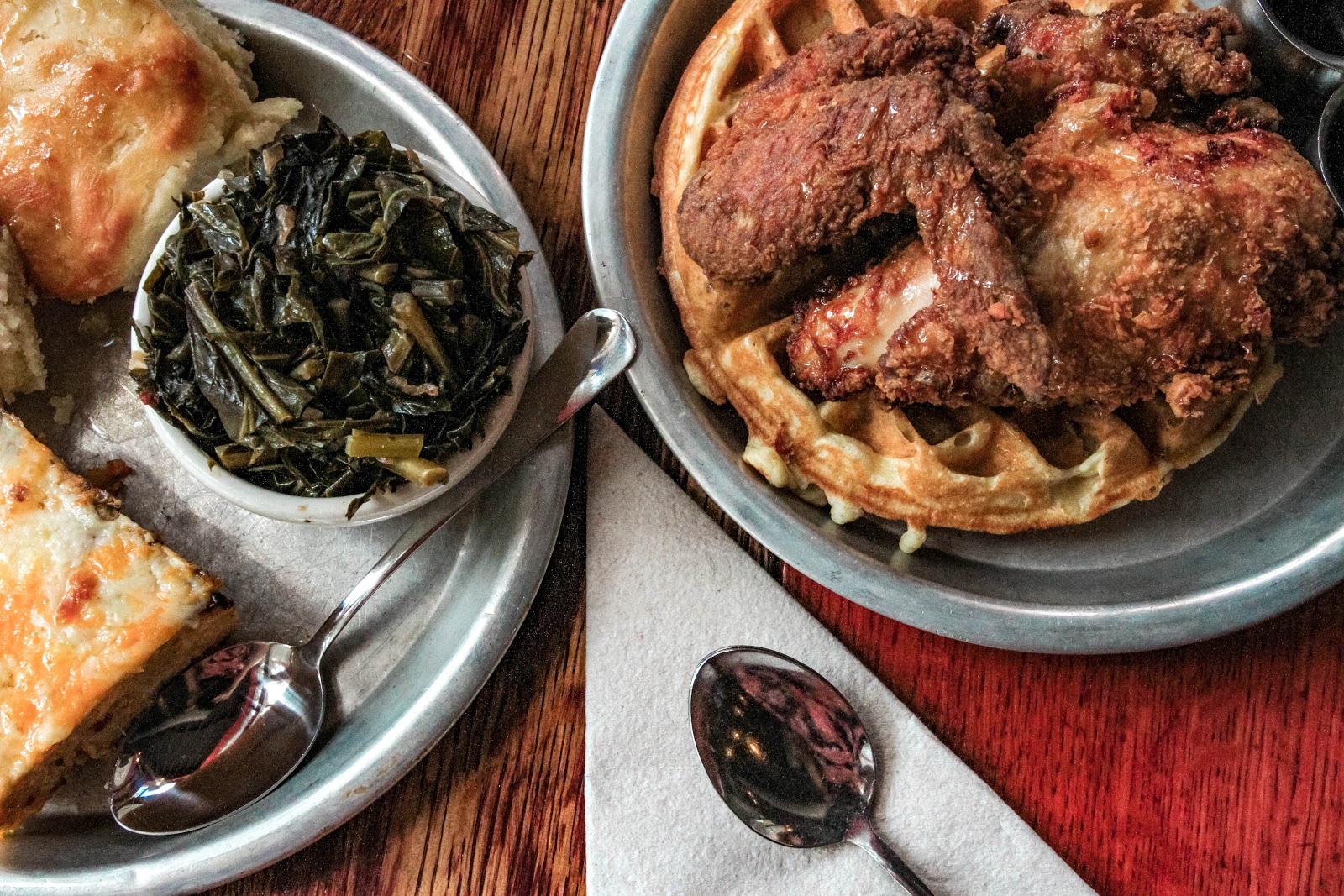 Beasley's Hot Chicken + Honey
RECOMMENDATION: Chicken and Waffles
Situated within Downtown Raleigh, Beasley's Hot Chicken + Honey is putting a spin on one of the South's specialities: fried chicken. Rooted in community, you can expect to be sitting elbow to elbow with your neighbor as you order off the giant chalkboard menu that hangs on the wall. Just like Poole's Diner above, Beasley's is also a product of James Beard Award Winner Ashley Christensen, so you know it'll be delicious.
Mami's Rotisserie Chicken
RECOMMENDATION: Arroz Chaufa
You'll easily spot the bright yellow building that houses Mami's Rotisserie Chicken from a block away. The vibrant color palette doesn't stop there. Inside you'll be greeted with neon walls and the smell of charcoal-roasted chicken with Peruvian seasonings. One word of advice: come hungry or be prepared to go home with a lot of leftovers.
Saltbox Seafood Joint
RECOMMENDATION: Hush Honeys
Located in an unassuming mint green shack in Durham, Saltbox Seafood Joint is bringing you a taste of the coastline straight to the landlocked Triangle area. With an emphasis on fresh, local seafood, it's no surprise that their menu is ever-changing and evolving, depending on the recent catch of North Carolina fishermen. We may not be able to tell you exactly what will be on their hand-written chalkboard each day, but we can promise you, it'll be good.
Did we miss one of your favorite Raleigh restaurants? Let us know on social at @lifestylecommunities.