Between all the neighbors and their unique names, it's easy to get confused (and frankly lost) when tackling Nashville. We're breaking it down, neighborhood by neighborhood, to share some of our favorite eats and things to do in each area. Today, we're talking SoBro, aka the area South of Broadway, which is full of bustling bars, trendy restaurants and a vibrant music scene.
WHERE TO EAT
Liberty Common
207 1st Avenue South
Get ready to be transported across the world to a French-style cafe at Liberty Common. Unlike a traditional French brasserie, they're serving more than the typical steak frites and house-made baguettes. The menu pulls flavors from its Nashville roots with a range of southern inspired dishes such as fried chicken and trout & grits.
Husk
37 Rutledge Street
Residing in a historic 19th-century mansion, Husk is providing guests with an authentic, farm-to-table Southern food experience. They're not kidding around; their #1 rule is that if it doesn't come from the South, it's not coming through the door. Due to this mantra, their menu changes every single day, so you never know what you'll get. But, we promise no matter what it is, it'll be fresh and delicious!
Martin's Bar-B-Que
410 4th Avenue South
If you're looking to experience true Southern BBQ and cool down with a cold drink, Martin's Bar-B-Que is the spot for you. Once inside, head to the counter and place your order. We recommend the BBQ Trays which allow you to choose your protein along with two sides. From here, head upstairs where you'll find a partially-covered beer garden equipped with ping pong, darts, and shuffleboard to keep you busy until your food gets delivered to your table.
WHAT TO DO
Pinewood Social
33 Peabody Street
Whether you're looking to catch some rays in the summer or looking for a way to stay warm in the winter, Pinewood Social has something for every season. At the entrance, you'll have the option to grab a caffeine pick-me-up from the Crema Coffee Bar or grab a table at their full service restaurant. Head to past the restaurant and you'll find the vintage bowling alley lanes, restored from an old Bowl-O-Rama, available for rent. Head outdoors and you'll find a swimming pool, bocce ball court, and cabana seating.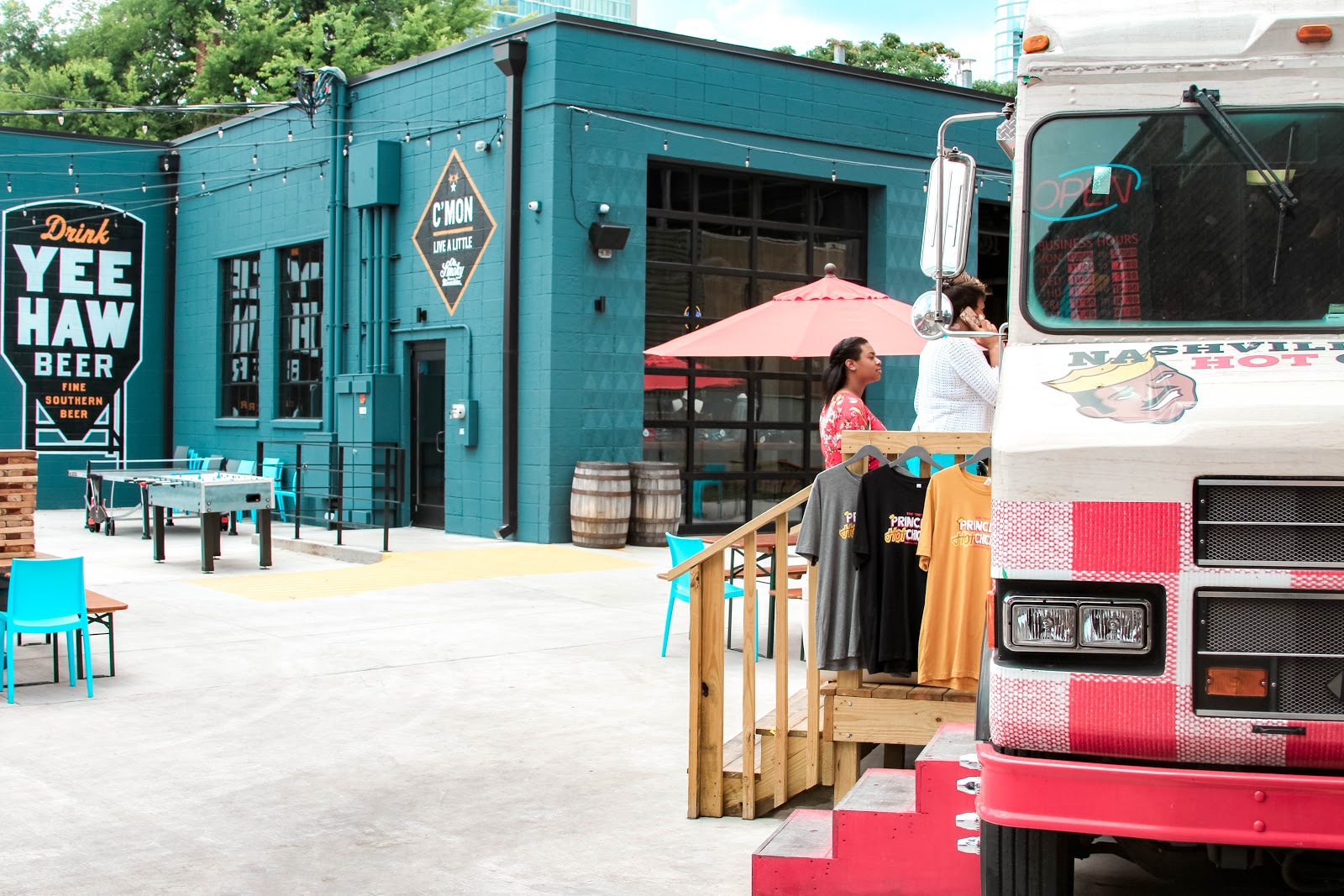 Ole Smoky Distillery + Yee-Haw Brewing Co.
423 6th Avenue South
Tennessee's first legal moonshine brand, Ole Smoky Distillery, and one of Tennessee's craft breweries, Yee-Haw Brewing Co. have partnered together to deliver an indoor-outdoor experience including live music, moonshine tastings, and an outdoor beer garden with an array of games. And just when you thought it couldn't get any better...a Prince's Hot Chicken food truck is parked on site, giving guests an opportunity to try the originator of hot chicken without having to leave the city.
Country Music Hall of Fame
222 5th Avenue South
Did you really go to Nashville if you don't check out at least one of their country music attractions? Nope. Whether you're a country music buff or not, you can still enjoy the over 2.5 million artifacts housed inside the Country Music Hall of Fame. It might look large and intimidating but you can get through the museum in two hours.
Did we miss one of your favorite restaurants or activities in SoBro? We'd love to hear them! Share them with us on Instagram at @lifestylecommunities.