On our last trip to Louisville, we knew we wanted to make time to tour the Copper & Kings distillery in the Butchertown neighborhood, and man, was that one of our better ideas! If you haven't been there already, do yourself a favor and book a tour as soon as you can. We had the pleasure of getting the lay of the land from Macy, who was both incredibly knowledgeable and charismatic. Suffice it to say, she knew her stuff.
If you are planning to tour, here are a few things to know:
Tours are offered daily on the hour. The last tour of each day begins one hour before close.
There are three tour options available: Mini Tour ($10), Distillery Tour ($15) and Private Tours (Price Varies).
Hours are Sunday through Thursday from 11am - 5pm; Friday from 11am - 7pm; and Saturday from 11am - 4pm
Tour availability and hours are subject to change and reservations are encouraged.
We opted for the Distillery Tour, which included a one hour tour of the distillery, three half-ounce tastings per person, and a souvenir tasting glass. Totally worth it. Before you even start the tour, you'll likely wait for your guide in a small, repurposed shipping container beside the visitor center. We really appreciated this (indoor) seating area, because it was abnormally hot on our visit and no one wanted to be outside. You'll be able to tell right away that while Copper & Kings is relatively new to the area, this is not a start-up environment. Everything is sparkling and new and state-of-the-art. They even have a butterfly habitat and wildflowers growing just off the courtyard. Once everyone was present and accounted for, the tour began and we were on our way.
First stop was through the open courtyard that they encourage local residents and visitors to use (during normal operating hours). Macy explained that they wanted to really cultivate this sense of community and bring people together, which we thought was cool and a nice touch for the neighborhood. Then, she gave us some background on the owners, Joe and Lesley Heron. This duo has seen a lot of success in the beverage industry, creating Nutrisoda (sold to PepsiAmericas in 2006) and the Crispin Hard Cider Company (sold to MillerCoors in 2012). Essentially, they saw a demand for brandy - even in a predominately bourbon part of the country like Kentucky - and jumped on the opportunity to capitalize on it. We're glad they did, because their product speaks for itself.
We found some of the tour similar to that of bourbon-producing facilities. Maybe the overall atmosphere and look of the building contributed to that, because the aging methods of brandy aren't that similar to bourbon. On our tour of Kentucky Peerless, we were told about the varying temperatures in Kentucky and its net effect on the bourbon. But brandy needs a more stable, consistent temperature. That's where the cellar-like basement at Copper & Kings comes into play.
They also use some other interesting methods in the process, like incorporating music to jostle the liquid around in the barrels. The theory is that wavelengths from the bass lines enters the barrels and hits the denser, heavier ethanol molecules, separating them from water and other particles, and moves them about inside the wood. The staff determines the playlist, so the style and mix depends on who's on the schedule that day. We were treated to some Latin music on our visit and it seemed like the barrels were into it, too. Like we said, interesting.
After the dance party, we took the elevator up to the tasting area, which also doubles as an art gallery. It made for a really cool environment and the artwork was stunning. Macy went over the different options available and each of the flavor profiles before allowing each tour member to choose three samples. If you take the tour with a group, we recommend that each person select a different trio - you'll likely get to taste more (if not all) of them that way, and it worked for us. We each had our favorites, but all were good and worth a try.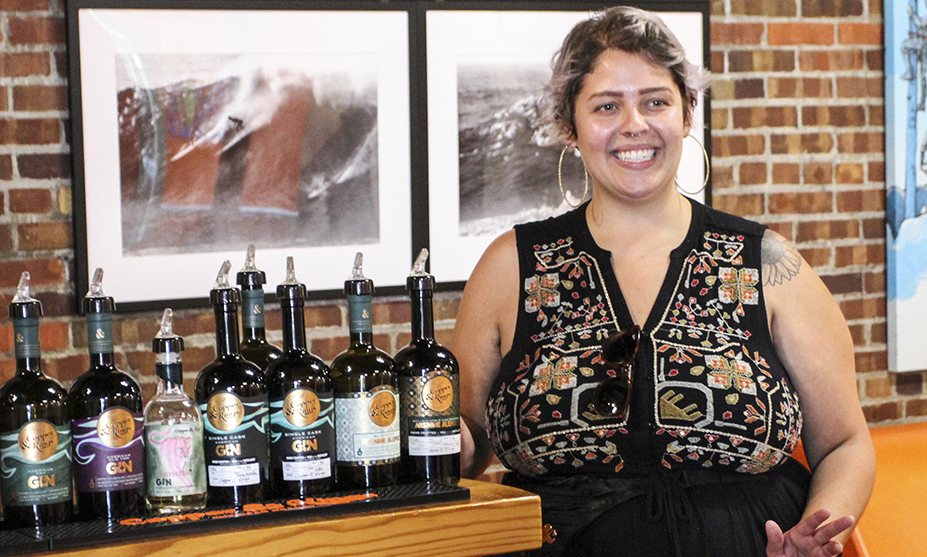 Once the whole tour group was finished, we grabbed our complimentary tasting glass and exited back through the courtyard and butterfly garden. All in all, the tour and tasting took about 45 minutes and was definitely worth the cost of admission. Macy was fun to have as a guide, but we're willing to bet all the staff members are well-informed and entertaining. It'd be hard not to be in an environment like that.
Have you been to Copper & Kings, yet? Have plans to go? Let us know what you think by sharing your photos and feedback with us @lifestylecommunities on Facebook and Instagram.