When you first enter Kayli's apartment, your eye will instantly be drawn to the checkered Mackenzie-Childs pieces adorning the kitchen countertops. We soon found out that these hand-painted ceramics could be found in just about every room of her apartment home and were used as inspiration to design her entire space. In fact, she asks for a new piece from this collection every year for her birthday and Christmas.
It is no surprise her passion for home decor has led her to strike out on her own and chase her dream of becoming an interior designer. We sat down with Kayli to learn more about where her love for interior design stems from and why she's fallen in love with her space at LC Gahanna.
How would you describe your style? I like to mix patterns and fabrics but you'll notice I tend to stay within the black and white color palette. I'll use pastels, such as pinks and blue, to add little pops of color throughout the space. I guess you could describe it as feminine and preppy.
Where do you get your sense of style? My mom is actually an interior designer so a lot of what I've learned about design comes from being exposed to her creativity and passion while growing up. When I was younger, she redid an old farmhouse to create the gorgeous modern farmhouse I grew up in. I also pull a lot of my inspirations from bloggers. I've always loved Emily Gemma's style and I look up to her; you can find her at @emilyanngemma on Instagram!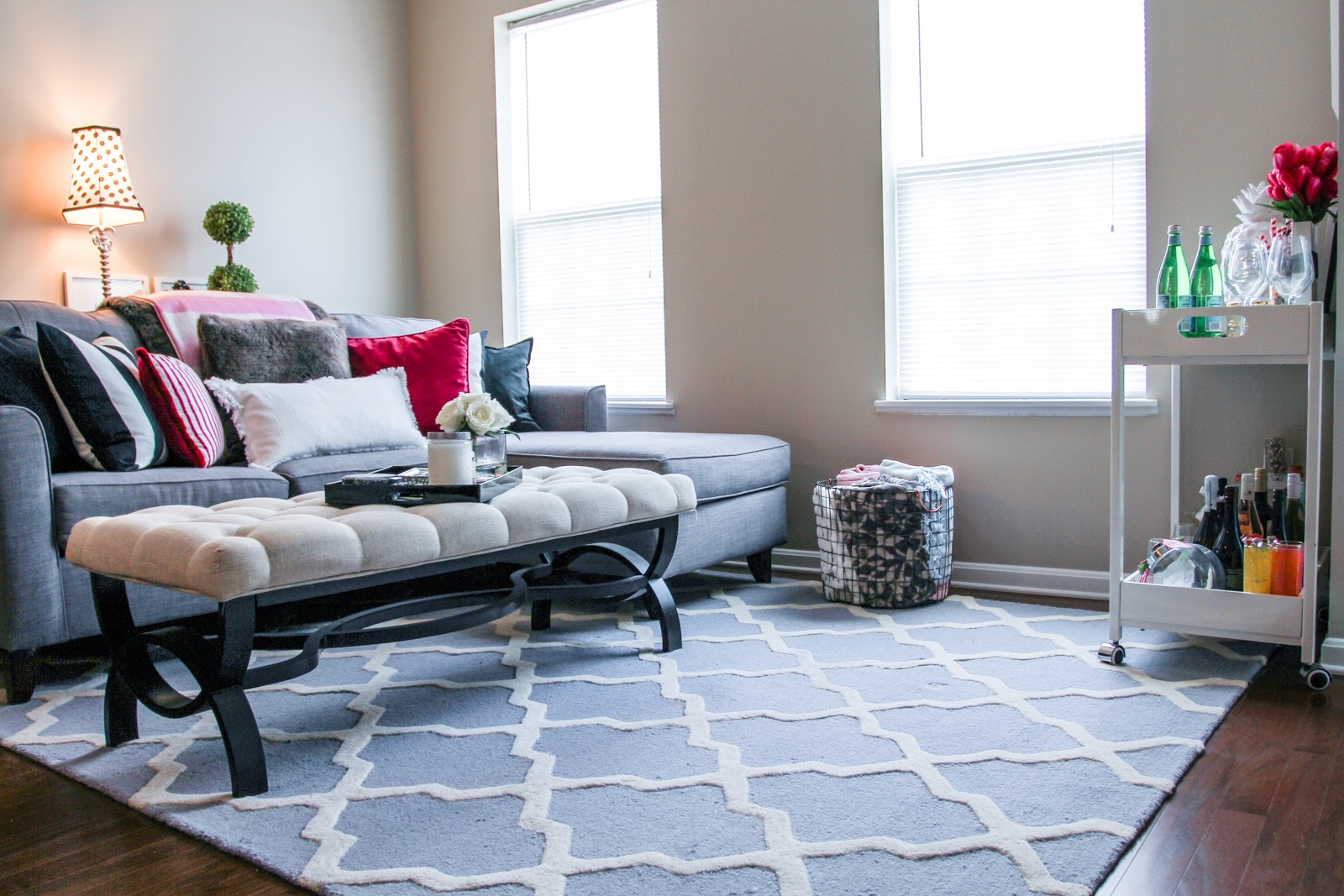 What are your favorite elements in your home? This is such a hard one; there's honestly too many to pick! If I had to pinpoint just one thing in particular, it would have to be the open layout of the apartment. I love that the living room and kitchen are just one giant room! I've hosted a bunch of "adult sleepovers" with my friends where we've filled the room with air mattresses and drank wine all night long. It's awesome that I have the space to be able to host like that.
What is your favorite part about living in LC Gahanna? I actually have a good friend of mine that lives here. When I came to visit her, I instantly loved the community and thought to myself, "this could be my new home." I ended up breaking my lease and moving in here. I've enjoyed that the community feels very safe and everyone is so friendly; I've never lived somewhere before where my neighbors actually said hello. There's also awesome amenities! I've spent quite a lot of time lounging by the pool, working out at the gym or hanging out at The Goat.
What do you like best about the neighborhood? I like that I'm able to have the homey neighborhood feel of living out in the suburbs while also being in close proximity to Downtown Columbus. If I'm staying local for the night, my favorite places to hangout are Creekside or Easton. The Barn is probably my favorite local restaurant; you have to try it out!
Where do you spend a typical Saturday in Columbus? You can probably find me starting my day with a bit of shopping. I love that Easton is so close by and they have every store I could ever want, especially the new HomeGoods! I am an avid HomeGoods shopper so I always have to stop by there when I'm in the area; I love the thrill of a good hunt! After a day of retail therapy, I love to end the night on my patio with friends, enjoying a glass of wine.
Interested in showing off your place? Contact us on social @lifestylecommunities.