Meet Camey & Brian, a Bumble success story and Chicago transplants, who celebrated their one year anniversary in their LC Germantown home just last week. You'll be shocked to learn that neither one of them are professionally trained in interior design. Their gorgeous home is merely a combination of their personal styles and a shared passion for making their space feel like a home for themselves, and all the guests that pass through their door. Unfortunately, we couldn't convince the couple to let us move into their guest bedroom, but we did get them to reveal some of their design secrets.
How would you describe your style? Camey: Well, it's funny you ask that. It's our first time living together so we had a lot of fun figuring out what our style was going to look like as a couple. It's mostly industrial with a bit of bohemian flare mixed in. We don't like to limit ourselves when it comes to decorating. Brian likes the unexpected; just look at the gallery wall above our bed. The entire wall came out of Brian's head somehow. There's everything from old family photos and a photo of a dog riding a whale to Bill Murray and needlepoint canvases, but somehow it all came together and just worked. The best advice we have when it comes to decorating a home is: collect items that make you happy and find a way to incorporate them into your home.
What are your favorite elements in your home? Camey: This unit in particular stood out to us because we love the natural, industrial feel of the apartment; the tall exposed cement ceiling and beams matched our style perfectly and both of these elements were so unique compared to every other apartment we looked at. We were also drawn to how wide open the space is and all the natural light the oversized windows provided. Everything about the unit makes us feel so at home.
Can you tell us about your open shelving lining the wall? Camey: I love to read and have acquired quite the book collection, while Brian is really into collecting records. We needed a way to showcase both of our passions, and the small, basic bookshelf we already owned was underwhelming in the space. We decided to make this our first DIY project as a couple. I sketched out the design and Brian brought my vision to life. We decorated it together afterwards with pieces that make us happy.
What do you enjoy most about living at LC Germantown? Camey: I think my favorite part has to be the CODE workout space and classes. I go to the 6 AM classes and have gotten to know the "morning crew" pretty well at this point. I love that I'm getting my workout finished before work but also that I'm getting to meet my neighbors and other people from the Nashville community. Brian: I like having The Goat within walking distance of our apartment. I'm now on a first name basis with the bartender, Dave; he's amazing! He even talked me into trying The Goat pizza and I was pleasantly surprised. Being from Chicago has made me into quite the pizza guy and the Dueling Pepperoni exceeded all my expectations.
What do you like best about the Germantown neighborhood? Brian: Coming from Chicago, we were looking for a neighborhood that would emulate our lifestyle in the city. We wanted something with some walkability. We looked into the 12 South and East Nashville areas as well but the level of convenience that we feel in Germantown just wasn't in those other areas. Camey is able to walk to work downtown every day, and on the weekends, we can walk to some of our favorite restaurants with ease. Some of our favorites in the area are: Butchertown Hall, Jack Brown's Beer & Burger joint, and Von Elrod's Beer Hall & Kitchen.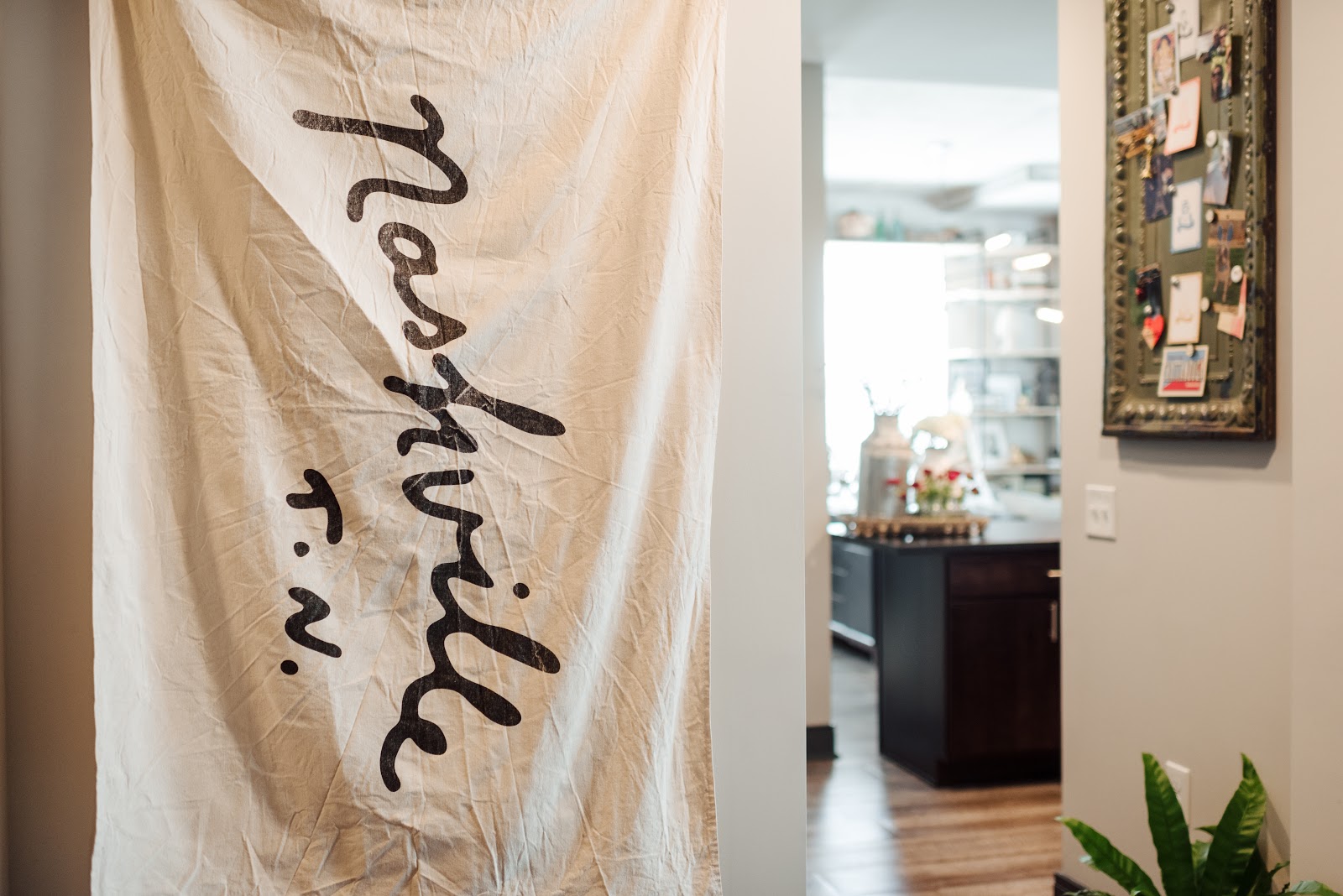 Where do you spend a typical Saturday in Nashville? Brian: On the weekends, we like to get out of the city for a bit and find a spot to hike. We loved living in Chicago but the weather was hard and we wanted to move somewhere where we would be able to spend more of the year outdoors. There's actually some really awesome hiking spots just a little over an hour outside of the city. We like going to South Cumberland State Park and hiking the Fiery Gizzard Trail.
Interested in showing off your place? Contact us on social @lifestylecommunities.