Meet Emily. A self-proclaimed old soul and plant lover. By day, she's a cosmetologist specializing in wedding hair and makeup; she loves helping brides feel their very best on their wedding day. She prefers spending her evening dancing around her apartment with her boyfriend to the sound of her record player, finishing a puzzle on her bright green antique coffee table, or snuggling up on her couch with her goldendoodle, Louis.
We sat down with Emily to get the inside scoop on how she managed to get her hands on that gorgeous orange chair, what's kept her living with LC for over 5 years, and what some of her favorite local spots are.
How would you describe your style?
I would describe it as Mid Century Modern meets Western. I have a lot of geometric elements in my space that are reminiscent of the mid-century style, but I also couldn't resist adding western-style elements like the cowhide rug, cow canvas, and cowhide pillow...okay, so maybe I actually just have a thing for anything cow related. Clearly, my Tennessee roots have had a big impact on my style.
We're guessing there's a story behind that orange chair. Can you tell us about it?
My parents own a retirement home and were getting rid of some pieces of furniture. They knew that I loved the color orange and antiques so they saved it for me. I love how it's definitely the center of attention in my room and that it adds a bit of much-needed color. The story behind the green coffee table is similar; I found it at a local antique shop and loved the pop of color that it provided to the room.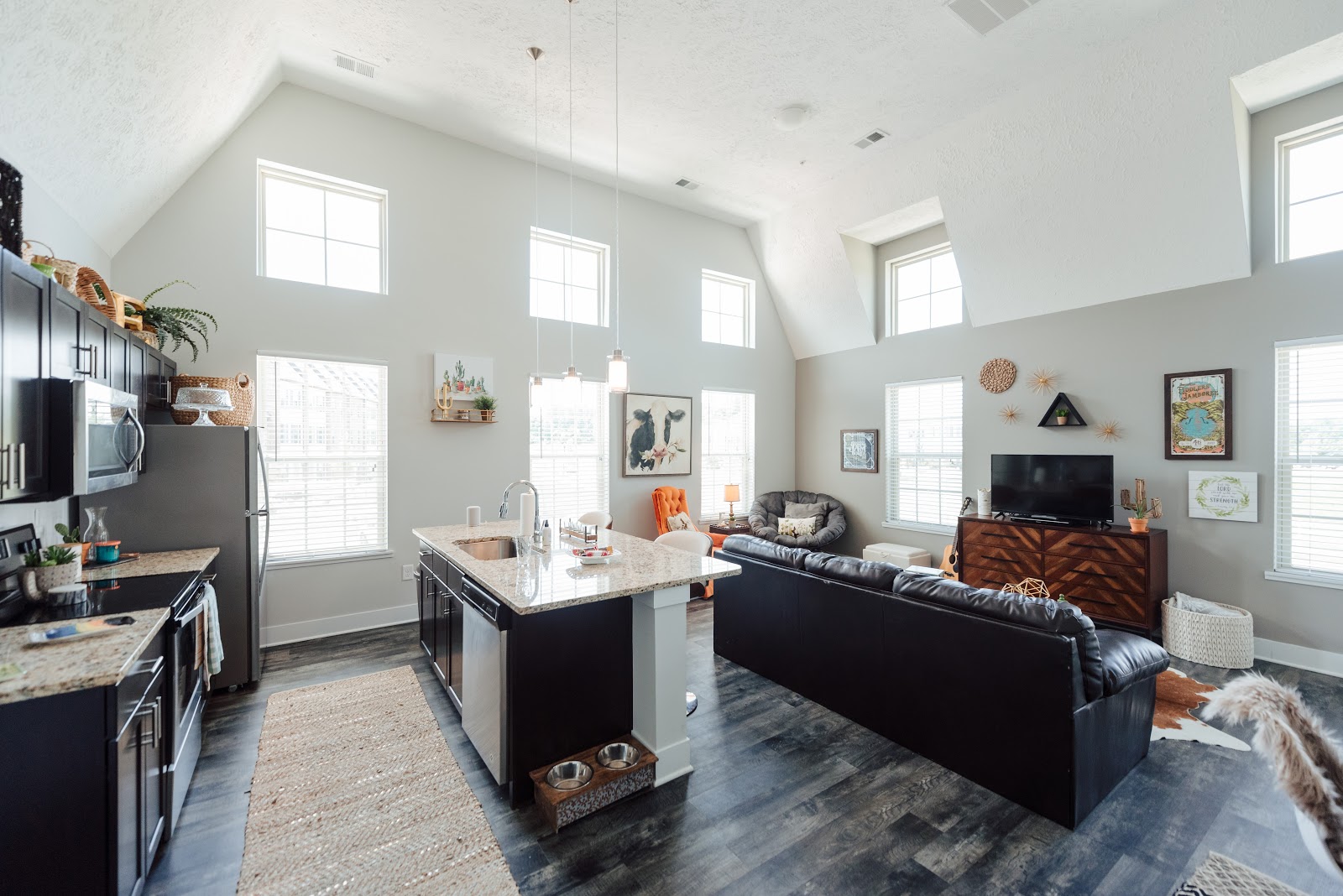 What's your favorite element in your home?
I've actually lived in five different floor plans with LC over the past five years and this is by far my favorite of them all. I love how the vaulted ceilings make the living room feel larger, and having the floor to ceiling windows lets in a ton of natural light during the day. If we're talking my favorite decor item, that would have to be the cowhide rug. The cowhide rug really pulls together the entire living area and fits perfectly with my Western-inspired space. Every Nashville space needs a cowhide, right?
What's your favorite part about living at LC Murfreesboro?
I absolutely love having The Goat restaurant within the community. I'm obsessed with the chicken wings, sweet potato fries, hot chicken dip, and blueberry mule. It's also amazing having the poolside service from The Goat during the summer and being able to have an impromptu date night basically on my front door step. My boyfriend, Jared, and I actually had our first date at The Goat and the hot chicken dip pretty much sealed the deal on our relationship.
We can't forget about Louis! What's his favorite part about the community?
He's definitely a big fan of all the greenspace and walking space within the community. It makes it feel like much more of a home instead of a temporary apartment. Also, everyone on the community team is always so kind to him; he'll never say no to a treat.
What are some of your favorite places in Nashville?
The Germantown area is definitely one of my favorite neighborhoods in Nashville and I love that I'm able to visit with just a short drive into the city. To be specific, Butchertown Hall, Barista Parlor, City House, and Bits and Pieces are some of my favorite places in the area. It's nice being able to park my car and walk to everything in the area with ease. As an added bonus, a lot of the shops and restaurants are pet friendly so I'm able to bring Louis along too!
Interested in showing off your place? Email us at social@lifestylecommunities.com or let us know on social at @lifestylecommunites.