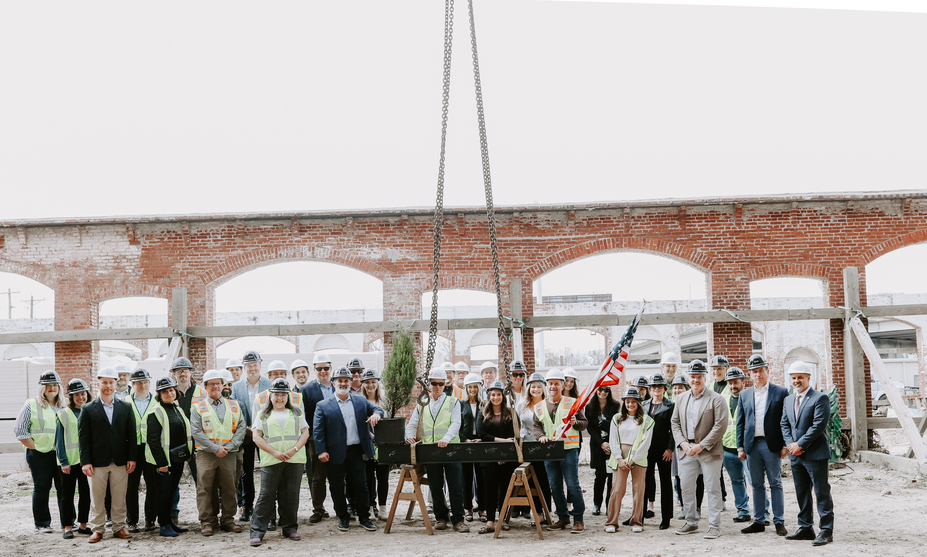 Charleston, South Carolina, January 18, 2023 -- Today, Lifestyle Communities (LC) commemorated the next milestone in the forthcoming LC Meeting Street mixed-use community in Charleston, SC, during a topping-off ceremony.
Attendees signed the final beam before it was lifted off to be placed on the highest part of the structure, marking a milestone for the company's first Charleston community. Noting a moment of celebration in the multi-year construction effort, Bo Brownlee, LC Chief Development Officer, thanked all involved in the project. Speaking to a group of leaders, architects, and city officials, Brownlee lauded collaborative work that helped make the project possible.
"We have worked closely with the City of Charleston and the surrounding neighborhood to design a community that will enrich the neighborhood and the lives of all who live here," Brownlee said. "The opportunity to transform a forgotten corner and build a pedestrian connection between King and Meeting Streets along Line Street is remarkable."
Located in the desirable Peninsula neighborhood, LC Meeting Street Phase I will give residents the opportunity to explore the city and all of its unique charm. Once completed, this mixed-use community will offer 250+ studio and one- and two-bedroom apartments along with modern amenities including The Goat Restaurant and Bar, Morning Ritual (our chic, high-end coffee shop), a luxury resort-inspired pool, outdoor bar, a state-of-the-art fitness center, spa and more. Residents will also enjoy stunningly curated common spaces that will expand the boundaries of their living experience, creating a welcoming sense of home and belonging…making it one of the best-in-class residential communities in Charleston.